RHODE ISLAND DUCKPIN BOWLERS ASSOCIATION

The home for Rhode Island Duckpin bowling!
The 2016-2017 RIDBPA Tournament Series Schedule is now available here!

The 2015-16 Average Book is now available here!
---
RIDBA News
The RIDBPA Tournament Series is starting up again! The first stop will be held at Wickford Lanes starting Friday, October 21st, and will run through Sunday, October 30th. Shift times are as follows:
Friday, 10/21 & 10/28 - 7:00 PM
Saturday, 10/22 & 10/29 - 3:00 PM & 6:00 PM
Sunday, 10/23 - 1:30 PM
Sunday, 10/30 - 9:30 AM & 1:00 PM
The entry fee is $35. The optional pools remain the same, $2 for high single, $3 for doubles, and $5 for the scratch pool.
Reservations can be made by calling/texting Doug Oliver at (401)749-1918. You can also visit the Facebook page that has been created for tournament series stop 1, and reserve through Facebook. Finally, you can call Wickford Lanes at (401)294-9886.
The tournament flyer can be found here!
The 3rd Annual RIDBA Awards Banquet will be held on Saturday, November 5th, 2016. We will be honoring RIDPBA Tournament Series winners, RIDBA top ranked adult bowlers, and RIDBA Hall of Fame Class of 2016 inductees.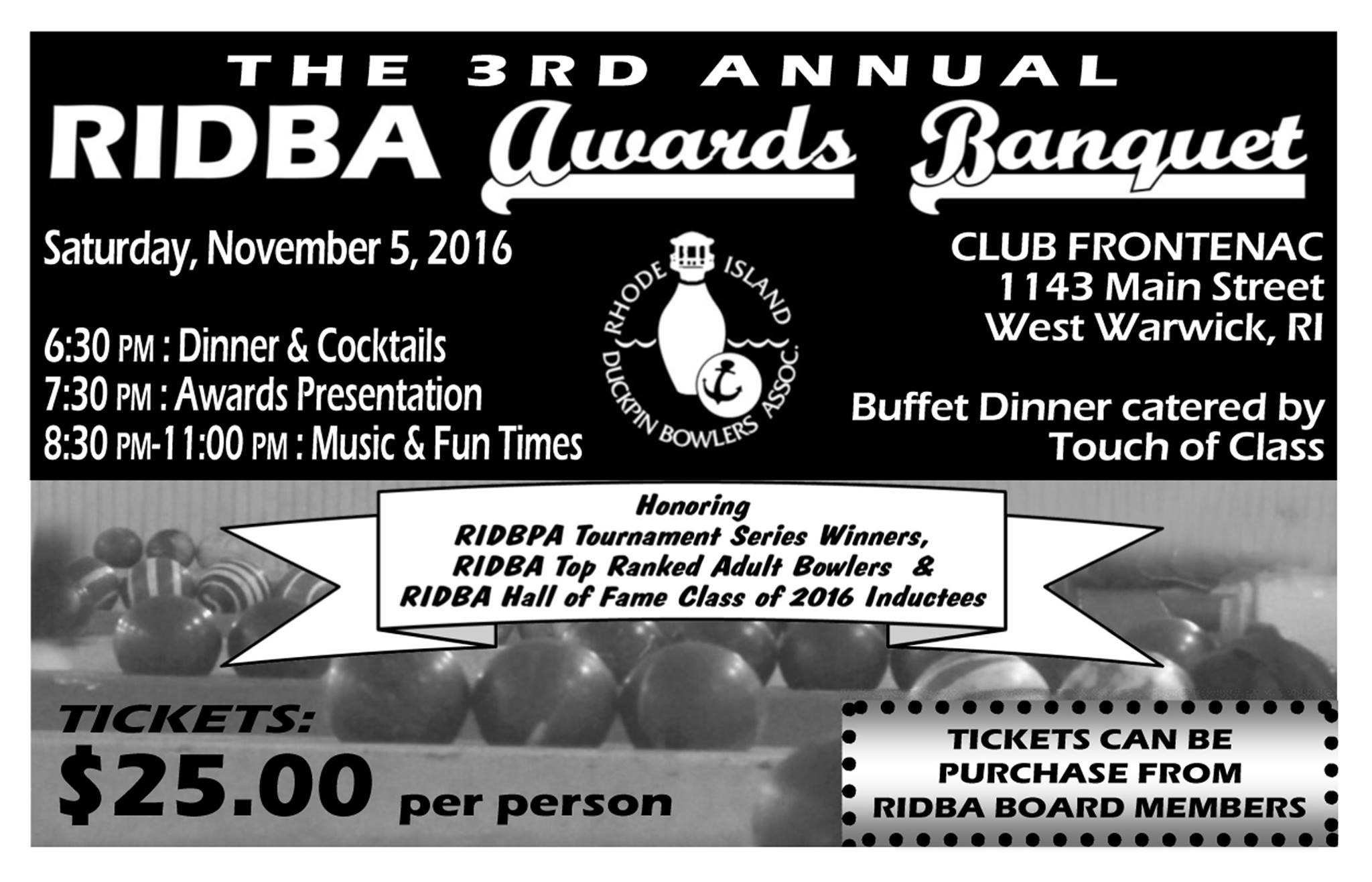 Member Houses

RIDBA Board Members
President: Al Zoraian
Vice President: Will Rigney
Secretary: Dan Lacroix
Treasurer: Ted Millard
Other Board Members:
Eric Barnes, Steve Borges, Charles Craw, Al Copice, Joel Lempicki, Chris Louth,
Joey Oliver, Lora Oliver, Joe Russo,
Diane Silvia, Mike Ware, Pam Zoraian

Contact us: Eric Barnes or Joel Lempicki

- Links -
National Duckpin Bowling Congress
Bowlers Association of Connecticut
Duckpin Professional Bowling Association
Women's National Duckpin Association